The Young Philanthropist Giving ImPACT for JDI has been designed by and for people under 40 years old who want to contribute financially and with their time, learn more, cultivate awareness around sexual and domestic violence, and make an impact in the Commonwealth and beyond.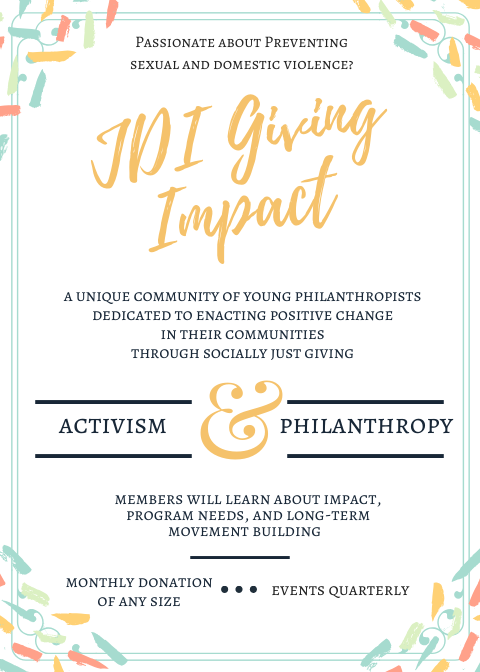 The vision for this new initiative is that by pooling their resources, you can have an impact on these critical issues. Each member of the group makes a monthly commitment at a level meaningful to them and aim together to raise $10,000 annually for JDI.
Our quarterly gatherings are a time for conversation, networking, and learning. We've explored the intersections of healthcare and gender-based violence, the impact of GBV in LGBQT++ communities, the connections between workplace harassment and economic justice, campus sexual assault, and the legislative process. Participants have shared that "it was such a special experience to hear directly from experts in the field, talk about what these issues mean for my generation, and identify ways of getting involved" and "I left knowing that I was part of a community of people who want to make a difference!"  
So if you are under 40 years of age and want to get involved, contact us and a member of the Young Philanthropist Giving ImPACT Circle will get back to you.
You can also contact Toni Troop, Director of Communications and Development at 617-557-1807 or development@janedoe.org.
Donate via check
Make payable to JDI and mail to
P.O. Box 960849, Boston MA 02196
Donate online
Click here
Thanks!