JDI's work is driven by the belief that those who are the most impacted by social challenges and systems of oppression have a say in identifying the needs and then  mobilizing and leading the solutions. Sexual and domestic violence survivors live, work, go to school, belong to faith institutions, and strive to survive in all of our communities. Yet they are often not the ones whose lived experiences are considered and whose priorities are adopted.
In the fall of 2019, the JDI staff set out to translate this belief into concrete ways that we can collectively help uplift the voices of survivors when it comes to matters of public and social policy. This shift in power – where sexual and domestic violence survivors help determine what services, laws, and funding exist and how they operate – will have an enormous impact in terms of safety for individuals and communities and the advancement of justice for everyone.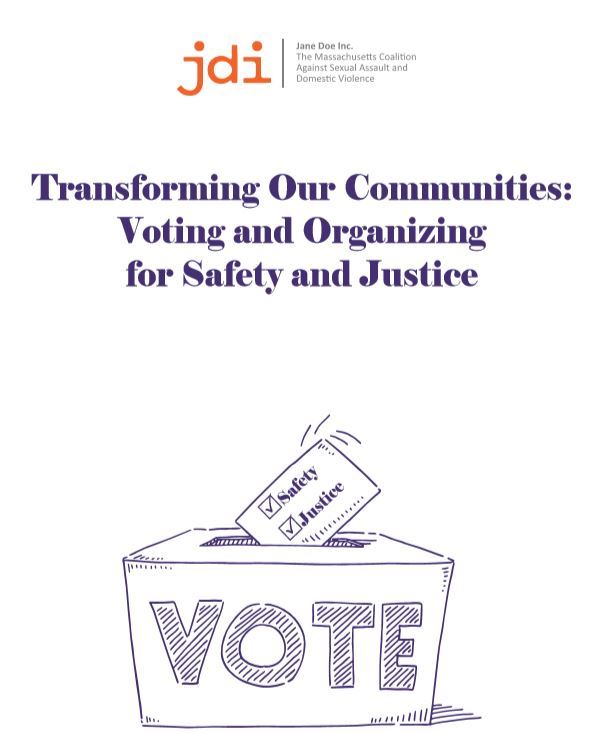 JDI published Transforming Communities: Voting and Organizing for Safety and Justice to guide leaders and inspire conversations across the Commonwealth about what it means to support people who experience sexual and domestic violence and how to make a difference.  We can engage everyone, regardless of their citizenship status, in the public arena – from voting and elections to community organizing.
We drew heavily from the work of the Virginia Sexual and Domestic Violence Action Alliance and adopted materials from Generation Citizen to create a toolkit that can provide a roadmap to help you make new connections, deepen your own civic engagement, mobilize those around you, and strengthen our democracy.
Organizations, movements, schools, neighborhood, community groups, and others are all encouraged to use this toolkit. The call to action is on all of us! 
We invite you to download the toolkit today and engage in a way that is meaningful to you. 
Share your experiences with us by email or on social media. 
Tag @janedoe and #TransformingOurCommunities
Please fill out this form to receive your copy